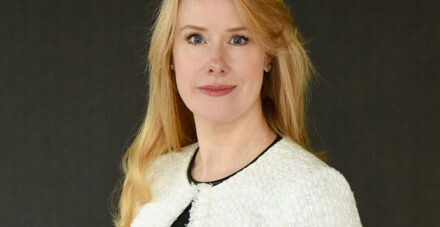 March 8, 2019
The 8 March marks International Women's Day and to celebrate, we wanted to tell you a little more about our Chief Operating Officer, Emma Cullen.
In her role as COO, Emma's looks after the oversight of legal, HR, governance, regulation, risk and data for Palmer Capital. In addition, she drives the technological change at Palmer Capital, and has been instrumental to the exciting changes that the company has seen over the last six months. Outside of work, Emma sits on the corporate governance committee of the Association of Real Estate Funds and is a panel speaker for the Winmark General Counsel Academy.
Emma started her legal career as a commercial lawyer at Frere Cholmeley, before she moved to niche property firm Forsters.  Emma's journey to COO included a stint as legal counsel at Ascent Media who provided creative and technical media services to the media and entertainment industries (including some of the cult classics of 2004: King Arthur, Van Helsing and Troy).  During this time she developed her corporate and commercial skills working with small businesses to which Ascent provided PE capital, before joining Palmer Capital as General Counsel Designate. She was appointed to the Board of Directors as Chief Operating Officer in 2016 when she also took a stake in the business.
Emma's 12 year tenure at the firm has seen the business evolve into one of the leading UK Real Estate Investment Managers, which this year celebrated its 27th birthday by selling an 80% stake to Fiera Capital Corporation, a prominent £140bn Canadian asset management firm. Emma was instrumental in seeing the transaction over the line just before Christmas.  
Emma sees her move from GC to COO as a natural evolution of her GC role where she built deep relationships and trust within the senior management team. She attributes her success to "broad sector knowledge coupled with the flexibility and courage to assume responsibility in unfamiliar territories," True to her words, she has recently enjoyed socialising the digital achievements of Palmer Capital through podcast and video which will debut at MIPIM next week.
As a full time working mother of two young boys, Emma's career has blossomed since her children were born which she credits in no small part to the entrepreneurial environment at Palmer Capital which has nurtured the advance of her career to the role she holds today.
We are delighted that c. half of the Palmer Capital HQ team are women, and would like to take this opportunity to celebrate them all and the great work they do here!