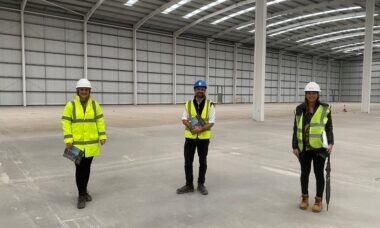 September 25, 2020
This week saw the first tours of Opus Land's Oldbury development, funded by Fiera Real Estate. Opus Land offered agents the opportunity to visit the  brand new, state of the
September 22, 2020
This year, LandAid's Steptober will run for two weeks between 1 – 15 October, with participants competing in teams of 4 against other professionals in our sector. Last year over
September 15, 2020
Fiera Real Estate are delighted to announce the appointment of Marcus Sperber as Non-executive Director and member of the Fiera Real Estate Long Income Fund UK Investment Committee. Marcus left
September 07, 2020
​Gavin Bridge, Director at Cubex Land, recently spoke to Estates Gazette about his daily routine during the work from home period, and how it's meant that workers have to re-think
September 04, 2020
LGIM Real Assets (Legal & General), on behalf of its Managed Property Fund, and development partner Wrenbridge, announce that they have secured planning permission to transform a 107,000 sq ft
September 01, 2020
The Guinness Partnership have secured planning permission for the third and final phase of their Imperial Street development which will provide a further 321 new homes.  This final phase will
August 28, 2020
Fiera Real Estate ("FRE") and Wrenbridge are delighted to announce the sale of prime industrial scheme Hawkers Yard for over £14m to Mileway, the leading pan-European last mile logistics real
August 28, 2020
​Covid-19. Brexit. Advances in technology. Climate change. The biggest challenges and opportunities that Alex Price sees ahead in the real estate markets all come back, in one way or another,
August 27, 2020
A new collection of apartments in central St Albans have been proving popular with local buyers, with half the development now sold. The development, Hertfordshire House, has reported a post
The information contained in press releases and company news is valid as of the date indicated. You should not assume that statements remain accurate or valid after the date.