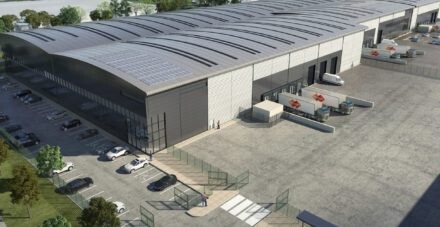 June 23, 2022
Originally published by Evelyn Lee at PERE. 
Fiera Real Estate UK, the UK real estate arm of Canadian manager Fiera Capital, has completed the first round of fundraising for its new urban logistics development vehicle, Fiera Real Estate Logistics Development Fund, PERE has learned.
The London-based manager has closed on £170 million ($212.15 million; ) of equity in the initial close for the fund, which has a target size of £250 million. The capital came from three multi-managers and consultants from the UK, North America and Asia.
The vehicle represents Fiera's first sector-specific fund, having previously raised a series of opportunistic vehicles. The latest offering, Fiera Real Estate Opportunity Fund V, attracted a total of £180 million in February and is the fifth and largest fund in the series, which has collected over £780 million to date.
Logistics was one of the strategies in the fund series, Alex Price, Fiera's UK chief executive. However, "this was a really successful strategy and worthy of its own vehicle rather than lumped into a larger vehicle."
He added that Fiera had finished investing FREOF V in March. Rather than launch a follow-on fund in the series, however, "we realized there was an opportunity to do this as a logistics-only fund and will look doing at other specific funds later this year."
Price, who will be transitioning to the role of vice-chairman next month, explained there was undersupply and structural shift in demand for UK logistics. During Q4 2021, there was 11 million square feet of take-up in the sector, but only 16 million square feet of availability. "We only have five to six months of supply in the whole market," he said. "It is a structurally undersupplied market."
Meanwhile, "there's a structural shift as we stay at home more and bring more supply chains closer to home," Price noted. "We're seeing the onshoring of supply chains, whether from Brexit, disruption in China or the tragedy in Ukraine."
Fiera intends to invest the fund's capital in the next five years to build small to midsized logistics assets across the UK. The firm has a target net internal rate of return of 15 percent and target 1.5x equity multiple for the fund, according to its website, and plans to use leverage of approximately 30 percent. The fund's first transaction, the purchase of an urban logistics development site in southeast England, is currently under offer. The site is expected to be ready for delivery in 12 to 18 months.
"We've got a lot of industrial capacity within our group," Price said. "That's how we've been able to deliver 3 million square feet in last few years. At the moment, we're focused on specialized areas where we know we have a unique advantage." Aside from logistics, those specialized areas include the residential sector, particularly the build-to-rent space.
"The trend is there are bigger megafunds that are generalists, opportunity funds that do lots of different sectors," he explained. "There's a middle ground that's quite difficult where you don't have the scale to be quite so generalist. They don't want to come to us more generally because they don't think we're big enough to be good at everything."
He added: "That's the route for this year, to give niche access for investors to different asset classes that's a more rifle shot approach rather than a more general approach."