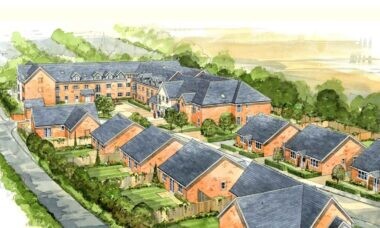 July 23, 2020
Angle Property are delighted to have been granted planning approval by the Planning Inspector for 48 C2 apartments and 10 bungalows following an appeal at their site at Lavendon Road,
July 21, 2020
Members of the Mole Valley District Council (MVDC) Development Management Committee have unanimously voted to approve plans by Angle Property to redevelop the western part of the Headley Court former
July 15, 2020
Angle Property has agreed to sell its last retail unit let to Fat Face Limited at its mixed-use Regent Place scheme in Amersham. The other sold units are let to
July 14, 2020
Wrenbridge and Buccleuch Property have secured planning permission for Fuse, Wixams an 80,000 sq ft warehouse development on 4.5-acre at Wixams in Bedford.  The development will create six Grade A
July 10, 2020
Every year, Fiera Real Estate gather a team for LandAid's 10k park run, however this year's event has a quarantine twist. LandAid have mixed it up so that people can
July 08, 2020
Wrenbridge, the Cambridge-based property developers and RPMI Railpen (Railpen), the investment manager for the £30bn railways pension schemes, have achieved planning consent for a 128,000 sq ft warehouse development on
July 06, 2020
Packaged Living are pleased to have submitted a planning application for a major new public square and BTR homes at Heyrod Street, Piccadilly East, Manchester. The application proposes 352 new
July 02, 2020
Fiera Real Estate ("FRE") is pleased to announce the appointment of Jessica Pilz, who will be leading the firms sustainability strategy in the UK. Jessica brings over 10 years' experience
July 01, 2020
Wrenbridge and Fiera Real Estate have secured forward funding for their 139,288 sq ft urban logistics scheme in Basildon from LGIM Real Assets (Legal & General), on behalf of its
The information contained in press releases and company news is valid as of the date indicated. You should not assume that statements remain accurate or valid after the date.