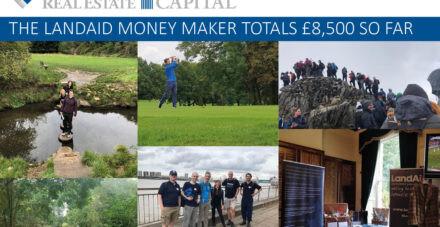 October 7, 2019
The LandAid Money Maker Challenge is back for its fourth year and we are well underway to raising lots of money for LandAid. 6 teams have signed up for this years event; Harlex Property, Osborne Clarke, Packaged Living, Palmer Capital, Queensbury Capital and Trusted Land.
Harlex Property are firmly in first place with an amazing £3,200 raised for LandAid after they hosted their second annual golf day at Leigh Golf Club. Over 50 people got together to raise as much money for LandAid as possible. The winning team was Gardiner & Theobald for the second year running, and there were prizes for nearest to the pin, longest drive and best individual. Harlex will be soon be announcing the details of next year's event and so get in contact if you'd like to get involved.
Osborne Clarke just finished their London Loop walk, which was a 5-day walk with over 40 walkers taking part. Each team took one leg of the walk, and they saw the highs and lows of all London has to offer before finishing off at the Coach and Horses for a very well earned drink! An amazing effort from a huge group of people and raising an amazing £2,400 including gift aid!
Queensbury Capital have entered the competition for the first year and took on the Rough Runner in Morden Park. The rain held off, but that doesn't mean they didn't come away caked in mud! They had plenty of obstacles to keep them busy, and raised £540 including gift aid! A very good first entry!
Packaged Living did their 3 peaks challenge in less than 24 hours back in May and raised £2,400 including gift aid!
Palmer Capital will again be hosting their spinathon but double the size it was last year. We're going bigger to raise as much money for LandAid as possible, and will see almost 100 cyclists work hard for 20 minute slots to compete for the largest distance covered.
Trusted Land, last year's winners, will again be holding a Developers' Dinner for their nearest and dearest and host an exciting raffle with prizes you don't want to miss out on.
We now only have 7 weeks to go until the end of the challenge and we look forward to seeing how much we can raise!
Well done to each of the teams who have completed their event. The running total of £8,500 is already a life-changing amount of money for the charity!