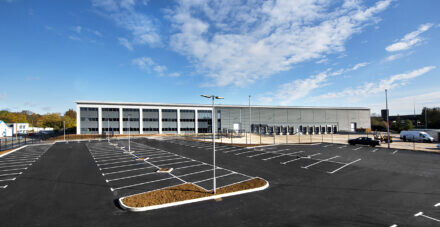 November 4, 2020
Midlands-based construction contractor MCS Group has completed a £7.4 million contract to deliver a 122,166 sq. ft. warehouse/industrial unit in the West Midlands.
Leading property developer Opus Land acquired the rare site of scale, comprising 6.35 acres, in an established industrial location, with vacant possession.
The site was acquired on behalf of the Fiera Real Estate Opportunity Fund IV UK ("FREOF IV UK"), the fourth fund in Fiera Real Estate's programmatic joint venture series with CBRE Global Investment Partners ("CBRE GIP").
MCS Group has delivered the XPANSE 120 state-of-the-art development at Seven Stars Road in Oldbury, near West Bromwich, on behalf of Opus Land.
The unit benefits from 10% office content at first and second floors, 125 parking spaces, lorry parking and an oversized and secure yard. The development is expected to attract investment and create new jobs in the region.
Keir Edmonds, managing director of MCS Group, said: "This is another impressive development from Opus Land and we are of course delighted to have reached practical completion.
"The development delivers a Grade A warehouse unit in an extremely convenient location, near junction 2 of the M5 and not far from the M6. There is a severe shortage of high quality stock across the West Midlands, so I am confident there will be many companies interested in this new Opus Land development."
Tom Halcarz, head of construction consultancy at Opus Land, said: "We have delivered a high quality warehouse unit at this fantastic site in Oldbury and MCS Group were the ideal choice as construction partners in the project.
"Xpanse 120 is positioned in a prime location for warehouse logistics and manufacturing of all industries, with facilities to rival any industrial estate in the UK. There is a huge requirement for industrial accommodation in the heart of the Black Country. We are offering a rare, flexible approach to occupiers seeking either freehold or leasehold options in new-build Grade A facilities."
The project received funding from the West Midlands Combined Authority's (WMCA's) Collective Investment Fund (CIF), a commercial development war-chest designed to stimulate jobs, opportunity and growth in the region.
MCS Group is building a reputation as one of the industrial and warehouse sector's leading construction companies. The company has also built or refurbished more than 300 car dealerships including Audi, BMW, McLaren, Aston Martin and Jaguar Land Rover since its inception in 2003.