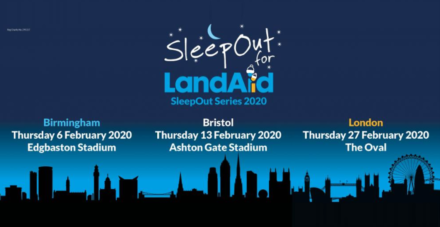 There are now just over 2 weeks to go until the LandAid London Sleepout at The Oval, which we are delighted to be sponsoring. LandAid, the property industry charity, are calling on property professionals to brave one night outside to prevent young people from having to do the same.
Last week marked the first of the 2020 Sleepout series in Birmingham which raised c.£40,000 to help the fight against youth homelessness. LandAid are hoping to raise over £400,000 across the three Sleepout events taking place in Birmingham, Bristol & London!
Fiera Real Estate will be joining over 300 other property professionals next week at the final Sleepout event and have raised over £1,000 so far. Alex Price, CEO, who will be hosting a speech at the London event has agreed to do so in fancy dress if we reach our £2,500 fundraising target. To help make this happen, please see our fundraising page here to make a donation and vote for your fancy dress option; a clown, superman or a scuba diver!
We're very much looking forward to taking part in this amazing event, and are definitely looking forward to seeing Alex take part in your choice of outfit! Here's a sneak preview of what you could be seeing…